The npa/vzw/asbl RBSS-KBGH-SRCB convenes its members to vote on its revised RBSS bylaws adapted in accordance with the new law on 'asbl/vzw'. As a sufficient quarom was not reached on November 28th, 2023 during the first extraordinary General Assembly, a second extraordinary Genearl Assembly will be held on December 14th 2023 at 19.30.
Members can be present in person at the society's headquarters, or participate online. If you wish to vote but cannot make it to the assembly, in accordance with the bylaws, proxy voting is possible.
More information can be found on the full event description.
¤¤¤¤¤¤¤¤¤
De vzw RBSS-KBGH-SRCB roept haar leden bijeen om te stemmen over de herziene statuten van de RBSS, aangepast in overeenstemming met de nieuwe wet op de vzw. Omdat op 28 november 2023 er een onvoldoende aantal leden aanwezig waren, zal er op 14 December 2023 om 19.30 een tweede buitengewone algemene vergadering worden gehouden.
Leden kunnen persoonlijk aanwezig zijn op het hoofdkantoor van de vereniging, of online deelnemen. Als u wilt stemmen, maar de vergadering niet kunt bijwonen, is stemmen bij volmacht, in overeenstemming met de statuten, mogelijk.
Meer informatie vindt u in de volledige evenementbeschrijving.
¤¤¤¤¤¤¤¤¤¤¤
La npa/vzw/asbl RBSS-KBGH-SRCB convoque ses membres pour voter sur ses statuts révisés de la RBSS adaptés conformément à la nouvelle loi sur l'asbl/vzw. Etant un nombre des members presents insuffisante sur la première Assemblée Generale Extraordinaire, un deuxième AG sera organisé le 14 décembre 2023, à 19.30h,
Les membres peuvent être présents en personne au siège de la société ou participer en ligne. Si vous souhaitez voter mais ne pouvez pas vous rendre à l'assemblée, conformément aux statuts, le vote par procuration est possible.
Plus d'informations peuvent être trouvées sur la description complète de l'événement.
20-01-2024
9:00
- 21-01-2024
16:30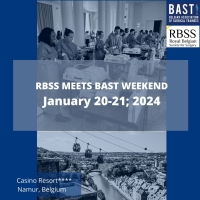 The RBSS Education Committee is organising together with BAST their fourth 'RBSS meets BAST' training weekend.
This year, again in the Wallonia part of our country, again a combination of practical training sessions on Saturday and sessions in medical writing on Sunday will be the core of this exciting event.
Registration is now open at a fee of 100,- including access to traing courses and availibility of the training stations, accomodation in a 2-person room with breakfast, lunch, coffee breaks and diner on Staurday evening included.
Registration on a 'First come, first serve' base. Priority is given to BAST/RBSS block members, although non-members can register for this event also although under condition of synchronous registration for RBSS/BAST block membership.