Belgian Section for Hepatobiliary and Pancreatic Surgery
Category: BSHBPS
Published: Monday, 01 September 2014 10:59
Written by BSHBPS Webmaster
01 Sep
Aim and focus
The Belgian Section of HepatoBiliary and Pancreatic Surgery - BSHBPS - aims to improve surgical education, training, research, innovation
and the quality of care for patients in the management of HPB disorders.
BSHBPS Board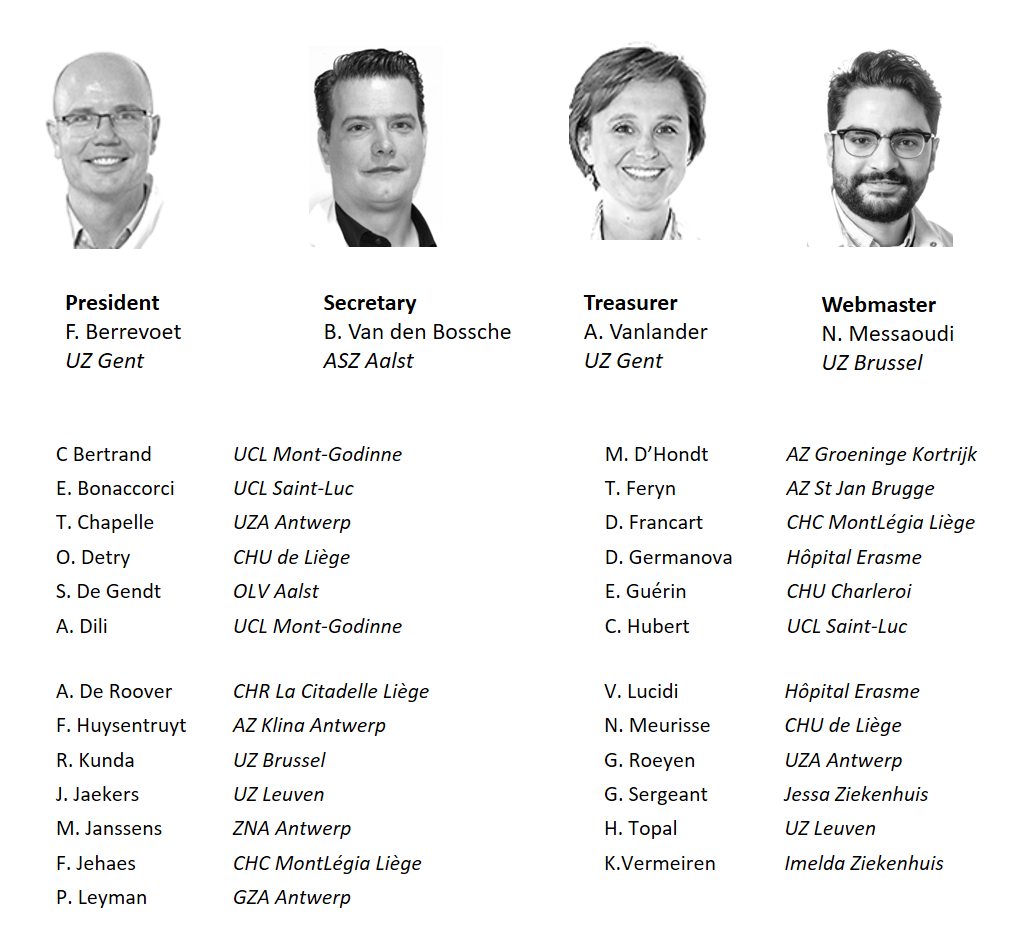 Next meeting
21st POST GRADUATE BSHPBS COURSE - Trauma Care in HPB Surgery
Date: Friday 23rd September 2022
Location: LAMOT Congress Centre, Mechelen
SCIENTIFIC PROGRAM
Session I:
09.00 Trauma Care in HPB Surgery
Moderators: R. Schwab, N. Meurisse, B. Van den Bossche
ATLS and the management of abdominal (and liver) trauma in the ER.
M. Thoma (Louvain-en-Woluwe)
Indications for the interventional radiologist in HPB trauma care.
K. de Keukeleire (Aalst)
Evolution in management of HPB trauma over decades
G. Sergeant (Hasselt)
10:30 Coffee break
11:00 The Big Battle
Moderators: A. Dili, J. Jaekers
Laparoscopic or robotic liver resection ?
Pro laparoscopy – L. Abreu de Caravalho (Gent)
Pro robot – V. Lucidi (Bruxelles)
11:45 Presidential lecture:
Gunshots, explosions and penetrating trauma, a different situation during warfare ...
R. Schwab (Bundeswehr Koblenz, Germany)
12:30 Lunch
Session II:
13.30 Surgical Management
Moderators: R. Schwab, D. Germanova, R. Kunda
The role of laparoscopy in HPB trauma care
N. Messaoudi (Brussel)
Management of liver trauma
H. Topal (Leuven)
Management of pancreatic trauma
F. Berrevoet (UZ Gent)
Management of splenic trauma
A. Dili (Namur)
15:30 Final conclusions
Previous meetings
BELGIAN SURGICAL WEEK
The session was scheduled on Friday May 6th (10:00 am – 11:30 am).
Moderators: Prof. C. Hubert (Cliniques Universitaires Saint-Luc – UCLouvain), Dr. B. Van Den Bossche (ASZ)
1. Ablation versus resection of small liver tumors
- Pro ablation: Prof. T. Chapelle (UZA)
- Pro resection: Dr. D. Germanova (ULB)
2. Venous embolization versus ALPPS in major liver resection
- Pro embolization: Prof. A. Dili (CHU UCL Namur - site Godinne)
- Pro ALPPS: Dr. J. Jaekers (UZ Leuven)
5th INTERNATIONAL LIVING DONOR LIVER TRANSPLANTATION CONGRESS
"EXCELLENCE THROUGH VERSATILITY"
October 15-16, 2021, Hotel Le Plaza, Brussels, Belgium
Register at https://www.ildlt2021.org/
XXthPOST GRADUATE BSHPBS COURSE - THINKING OUT OF THE BOX -
Date: Thursday, 11th MARCH 2021, from 5.00 to 8.00 pm
Format: WEBINAR HYBRID POSTGRADUATE COURSE - Recording of this webinar is now available for watching on demand.
SCIENTIFIC PROGRAM
Session I: LIVER
Moderators: A. Vanlander - T. Chapelle - B. Van den Bossche
17:00 Management of colorectal cancer with synchronous liver metastases D. Germanova, ULB
17:25 Management of resectable CRLM not responding to systemic chemotherapy and the role of hilar lymphadenectomy A. Dili, CHU-UcL Namur
17:50 Minimally invasive vs open liver resections: where are we now? The Belgian experience V. Lucidi, ULB
18:20 Round table discussion
Session II: PANCREAS
Moderators: N. Meurisse - N. Messaoudi - F. Berrevoet - G. Roeyen
18:30 Oligometastatic pancreatic cancer: ever candidates for resection? G. Sergeant, JZH Hasselt
18:55 Vascular resection in pancreatic cancer surgery J . Geers, UZ Leuven
19:20 Left Pancreatectomy B. Van den Bossche, ASZ
19:45 Round table discussion