Belgian Section for Hepatobiliary and Pancreatic Surgery
Category: BSHBPS
Published: Monday, 01 September 2014 10:59
Written by BSHBPS Webmaster
01 Sep
Aim and focus
The Belgian Section of HepatoBiliary and Pancreatic Surgery - BSHBPS - aims to improve surgical education, training, research, innovation
and the quality of care for patients in the management of HPB disorders.
Belgian HPB Tour 2021-2022
Candidates have been selected and will be visiting:
Dr Valerio Lucidi and Prof Desi Germanova
University Hospital Erasme-ULB
8-9 December 2021
Prof Thiery Chapelle and Prof Geert Roeyen:
Antwerp University Hospital
24-25 January 2022
Dr Claude Bertrand and Prof Alexandra Dili
CHU-UCL Namur, Site Godinne
16-17 March 2022
Prof Gregory Sergeant
Jessa Ziekenhuis Hasselt
4-5 May 2022
BSHBPS Board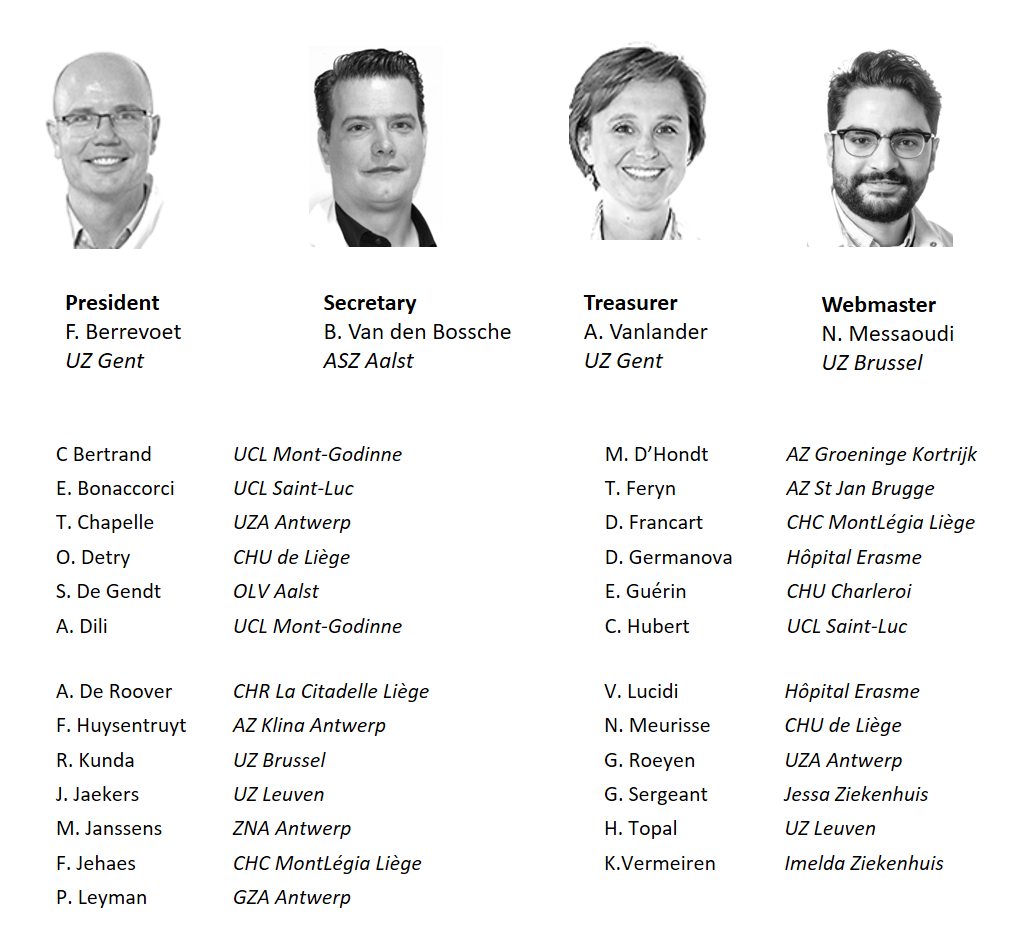 Next meeting
Our next scientific gathering will be held during the Belgian Surgical Week.
The session is scheduled on Friday May 6th (10:00 am – 11:30 am).
Moderators: Prof. C. Hubert (Cliniques Universitaires Saint-Luc – UCLouvain), Dr. B. Van Den Bossche (ASZ)
1. Ablation versus resection of small liver tumors
- Pro ablation: Prof. T. Chapelle (UZA)
- Pro resection: Dr. D. Germanova (ULB)
2. Venous embolization versus ALPPS in major liver resection
- Pro embolization: Prof. A. Dili (CHU UCL Namur - site Godinne)
- Pro ALPPS: Dr. J. Jaekers (UZ Leuven)
3. Laparoscopic versus robotic liver resection
- Pro laparoscopy: Dr. L. Abreu de Carvalho (UZ Gent)
- Pro robot: Dr. V. Lucidi (ULB)
Previous meeting
21st POST GRADUATE BSHPBS COURSE and 5th INTERNATIONAL LIVING DONOR LIVER TRANSPLANTATION CONGRESS
"EXCELLENCE THROUGH VERSATILITY"
October 15-16, 2021, Hotel Le Plaza, Brussels, Belgium
Register at https://www.ildlt2021.org/
XXthPOST GRADUATE BSHPBS COURSE - THINKING OUT OF THE BOX -
Date: Thursday, 11th MARCH 2021, from 5.00 to 8.00 pm
Format: WEBINAR HYBRID POSTGRADUATE COURSE - Recording of this webinar is now available for watching on demand.
SCIENTIFIC PROGRAM
Session I: LIVER
Moderators: A. Vanlander - T. Chapelle - B. Van den Bossche
17:00 Management of colorectal cancer with synchronous liver metastases D. Germanova, ULB
17:25 Management of resectable CRLM not responding to systemic chemotherapy and the role of hilar lymphadenectomy A. Dili, CHU-UcL Namur
17:50 Minimally invasive vs open liver resections: where are we now? The Belgian experience V. Lucidi, ULB
18:20 Round table discussion
Session II: PANCREAS
Moderators: N. Meurisse - N. Messaoudi - F. Berrevoet - G. Roeyen
18:30 Oligometastatic pancreatic cancer: ever candidates for resection? G. Sergeant, JZH Hasselt
18:55 Vascular resection in pancreatic cancer surgery J . Geers, UZ Leuven
19:20 Left Pancreatectomy B. Van den Bossche, ASZ
19:45 Round table discussion
Ongoing research and trials
MIMIPAC-trial: Progression-free Survival After MWA Plus Durvalumab and Tremelimumab for Unresectable Locally Advanced Pancreatic Cancer
This phase-2 monocenter non-randomized prospective clinical trial evaluates the effectiveness of minimally invasive microwave ablation plus immunotherapy for unresectable non-metastatic locally advanced pancreatic cancer.
Principal Investigator: Prof. Baki Topal, UZ Leuven