The BSUGIS will organise its 3rd Autumn meeting in the Leuven 'Provinciehuis' on 17th November 2021.
This meeting's topic will be:
"Prevention and treatment of postoperative diaphragmatic complications"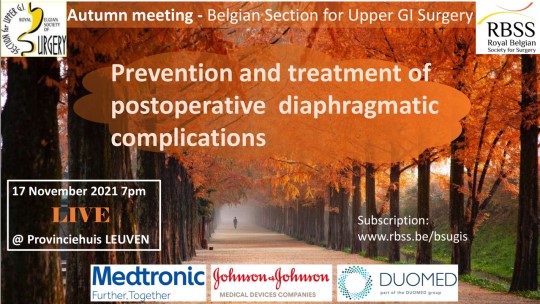 The Board of the BSUGIS kindly invites members of the RBSS / BAST to send in video's related to this topic
to This email address is being protected from spambots. You need JavaScript enabled to view it..
Two video's will be selected for presentation at this meeting.
Program:
19h00: Welcome
19h30: Walking dinner
20h00: Prevalence, treatment and tips and tricks to
prevent complications
20h00 post bariatric (Jacques Himpens)
20h30 post cancer surgery (Philippe Nafteux)
21h00 post antireflux (Bernard Dallemagne)
21u30: Discussion
Registration and particpation fees
In the particpation fee, the symposium as well as the walking diner preceding the meeting is included.
Non-RBSS-member: EUR 25,-
RBSS-member: free of charge for RBSS members when registering through the website- log in with your RBSS user profile to obtain your reduction.
Kind regards,
The BSUGIS' Board