Dear Friends, dear Colleagues,
We confirm the organization of the Besoms Winter Meeting scheduled on Friday February 11th 2022 at hotel Dolce La Hulpe.
Of course, the COVID safety rules will have to be respected during the meeting (hotel rules in attached file). To facilitate the respect of those rules and the social distancing, the meeting will take place in the biggest auditorium of the hotel (500 places) and a very large exhibit hall will be used for the sponsors and the catering.
The general theme of the post-graduate course is "Bariatric revisional surgery". Below you will find the detailed scientific program and the registration form. Meeting accreditation is requested. Be aware that you must send back your registration form before January 21st to get the reduced inscription fees.
On behalf of the Besoms board
Dr Hauters Philippe, BeSOMS president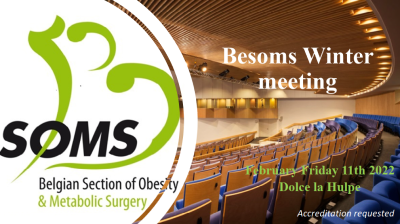 PROGRAM
8.30: Welcome venue

8.45: Introduction - Dr Hauters

9.00-12.30: Interactive case by case discussion

9.00-10.30: Session 1 – Moderators: Dr Van Der Fraenen, Dr Desmet
• 9.00: Discussing revisional surgery after silastic ring vertical gastroplasty complications. - Dr Gosse, Dr Hartman (La Louvière)
• 9.22: Weight regain after secondary non-adjustable banding of bypass: a failed Fobi. - Dr Van Hoef, Dr Dillemans (Brugge)
• 9.44: Weight regain after gastric banding in a super obese patient. - Dr Grandjean, Dr Desmet (Tournai)
• 10.06: Surgical management of a gastrogastric fistula following an endoscopic directed transgastric ERCP. - Dr Van Asbroeck, Dr Van Der Fraenen (Aalst)

10.30: coffee break

11.00-12.30: Session 2 – Moderators: Dr Devroe, Dr Pitot
• 11.00: Weight regain after RYGBP. - Dr Viskens, Dr Dillemans (Brugge)
• 11.22: Twenty years progression of weight and comorbidities in a patient treated by different bariatric procedures. - Dr Bozok, Dr Dandrifosse (Brussels)
• 11.44: Therapy-resistant reflux and gastroparesis in type I diabetes patient after Sleeve Gastrectomy. - Dr Vandeputte, Dr Dillemans (Brugge)
• 12.06: Revisional distal bypass for weight regain after sleeve in a super obese patient. - Dr Ngomba, Dr Navez (Brussels)

12.30-14.00: Lunch

14.00-18.00: Weight regain after bariatric surgery

14.00-15.45: Session 3 – Moderators: Dr Valk, Dr Kohnen
• 14.00: Survey about practices in Belgium. - Dr Lannoo (Leuven)
• 14.26: Defining Global Benchmarks in Elective Secondary Bariatric Surgery. - Dr Gero (Switzerland)
• 14.52: Algorithm for medical vs surgical treatment in case of insufficient weight loss. - Dr Himpens (Brussels)
• 15.18: Can increased physical activity be effective in case of weight regain. - Dr Hansen (Hasselt)
15.45-16-15: Coffee break

16.15-18.00: Session 4 - Moderators: Dr Gillardin, Dr Magema
• 16.15: Weight regain after gastric banding or vertical banded gastroplasty. - Dr Debergh (Roeselaere)
• 16.41: Weight regain after surgical and endoscopic gastric plication. - Dr Closset (Brussels)
• 17.05: Weight regain after sleeve : What is the best redo option: RYGBP or ? - Dr Navez (Brussels)
• 17.26: Weight regain after bypass : What are the therapeutic options ? - Dr Dillemans (Brugge)
REGISTRATION* (includes participation in the symposium, coffee breaks and lunch)
SURGEON
RBSS/BeSOMS member
Early registration untill 21/01/22: € 50
Registration after 21/01/22 & on site: € 75
Non member
Early registration untill 21/01/22: € 75
Registration after 21/01/22 & on site : € 100

TRAINEE
RBSS/BeSOMS member
Early registration untill 21/01/22: FREE
Registration after 21/01/22 & on site : € 25
ALLIED HEALTH
Early registration untill 21/01/22: FREE
Registration after 21/01/22 & on site : € 25
Please pay the appropriate amount into bank account number: BE31 3630 7533 1755 - BIC BBRUBEBB