BSUGIS Autumn meeting 2015
Category: BSUGIS
Last Updated: Thursday, 21 February 2019 09:28
Published: Saturday, 01 August 2015 14:51
Written by BSUGIS Webmaster
01 Aug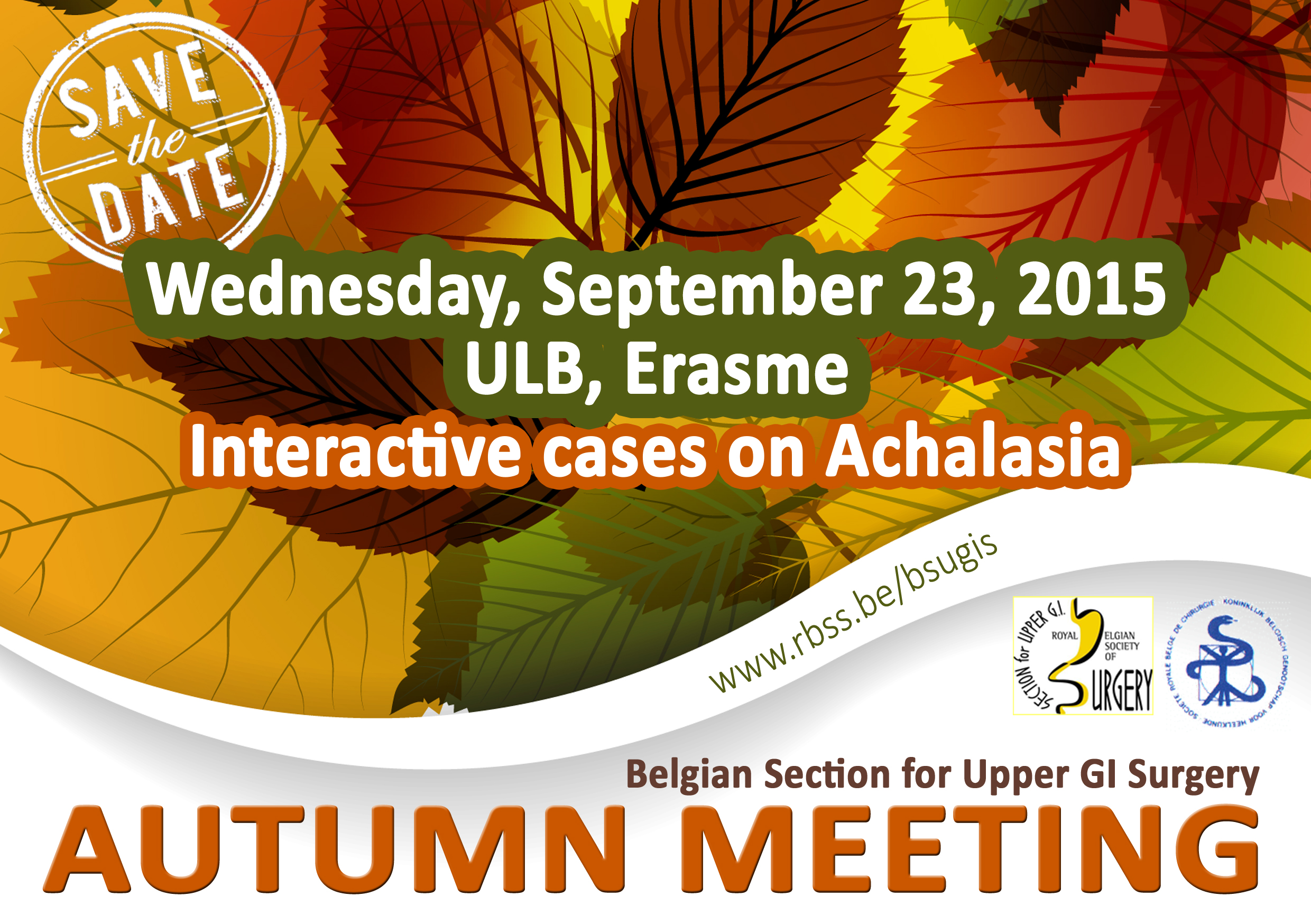 September 23rd, 2015
20.00 h. - 22.00 h. (Doors 19.00 h.)
ULB Erasme
Auditorium Jamotte, hopital Erasme niveau -1, Lenniksebaan 808, Route de Lennik, 1070 Brussel

Interactive cases on achalasia
Given the succes of our first and interactive meeting in March on GEJ cancer, during this session we aim to bring alive the discussion on treatment of achalasia disorders. As an introduction, we will enlighten endoscopic and surgical techniques in the treatment of achalasia. Then an interactive case discussion will bring these views together, moderated by our expert panel. We aim again towards young general surgeons, trainees and staff general surgeons to discuss these cases and go into discussion with the faculty.
Presentations:
Endoluminal techniques in the treatment of achalasia Prof.dr. J. Devière - GI Endoscopist - ULB
Surgical techniques in the treatment of achalasia Prof.dr. W. Coosemans - Thoracic surgeon - UZL
Expert panel:
I. El Nakadi (Upper GI Surgery - ULB), R. Bisschops (GI Endoscopy - UZL)

Case presentations on achalasia:
Case presentations by dr.J. Valk (ZNA - 1,4 Mb) and dr.M. Thoma (UCL).

Click on the links to view the teaser presentations (Powerpoint required to open files).
Registration
Since the meeting has passed, registration for the Autumn Meeting is closed.
Accreditation has been requested. An attendance certificate has been emailed to the particpants. None received? Contact the BSUGIS This email address is being protected from spambots. You need JavaScript enabled to view it..

How to get there?
Getting to the Erasme campus by car
| | |
| --- | --- |
| Access | From the Namur (E411/A4), Liège (E40/A3), Antwerp (E19), Ostende (A10), Charleroi (E19/A9) motorways, take exit N° 15a of the Ring de Bruxelles (Brussels ring road). At the exit, follow directions to « ULB - Hôpital Erasme ». Two paying parking lots are available to visitors in the the vicinity of the hospital. |